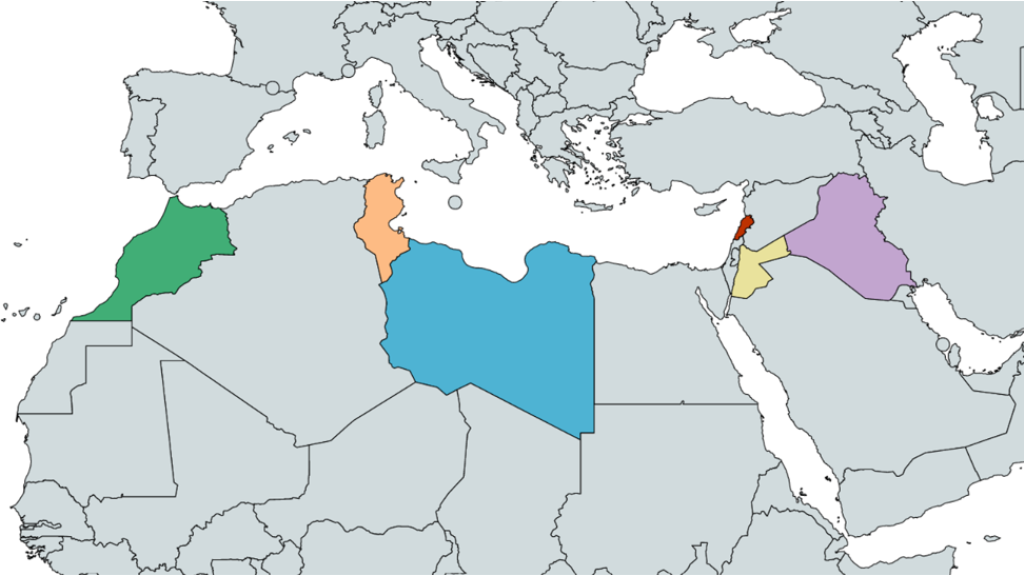 HSC implements the 'Civic Horizons' project, along with a consortium composed of six other organizations in the MENA region; New Tactics for Human Rights, Munathara Initiative, Arab Women's Organization, Fezzan Libya, Al Iraqi Al Amal Association and led by the Arab Institute for Human Rights. Civic Horizons is co-funded by the European Union. The project is implemented in Morocco, Tunisia, Libya, Iraq, Jordan and Lebanon. Its objective is to enable Civil Society actors as well as communities, especially youth, women and marginalized groups, to contribute to an enabling Civic Space environment in order to advance human rights, democracy and fundamental freedoms in the MENA region. Within Civic Horizons, the understanding of the enabling of civic space has been enlarged. Not only do we seek to address the legal and regulatory processes shrinking civic space, but also how socio-political trends in the various countries are affecting the legitimacy and base of support for civil society in society at large.
In order to broaden Civil Society's support base and strengthen civic and civil society space, HSC works with community leaders, members of civil society organizations, social movements, and activists (established and emerging), and especially youth committed to working in communities that are indifferent and/or aversive to CS and have low trust in CS overall. Over the six countries, we equip these actors to implement participatory action research with youth, women and marginalized groups from their communities through an inclusive approach. This path leads to knowledge-building as well as relationship building and the strengthening of networks based on listening, empathy, trust and a holistic approach to the human security experiences of the people in these communities. The research phase is followed by analysis and dialogue between those involved in conducting the research, community members, relevant stakeholders as well as between them and a larger group of civil society actors. The aim of the discussion with this larger group is to initiate a critical reflection among civil society about its relationship with society and legitimacy among society at large, as well as strategies to restore trust within civil society.
Building on the results of the action research, HSC contributes to capacitating the CS actors to envision and implement initiatives that resolve the human security issues community members identify as a priority. They are equipped with the necessary tools to engage non-violently and constructively with like-minded as well as non-likeminded actors in and around their communities (e.g. artists, teachers, social workers, neighbours, businesses, municipality,) to resolve these issues, all together, through an approach to community and societal engagement that is comprehensive and holistic. The citizens, once engaged, are more appreciative of what civil society does, what human security and human rights mean in day-to-day life, and the need for civil society as a bulwark against illegitimate and arbitrary uses of state and non-state power.
In parallel, HSC consults diverse civil society organizations and actors on issues related to shrinking space. This leads to a deeper understanding of shrinking space dynamics as faced by a wide spectrum of civil society actors, including effects of CFT measures, overregulation of civil society, financial inclusion, and liberties lost, including under COVID-19. These insights inform the advocacy carried out by the consortium partners and civil society actors involved in the various activities of Civic Horizons.
HSC and the consortium partners will increase the mobilization of the potential of stakeholders and communities as well as the collaboration among CS to address key drivers of shrinking civic space with an emphasis on liberties lost, including under COVID-19, and restrictions imposed under Counter Terrorism (CT) measures.
HSC offers technical support to 1) established Human Rights Defenders in the 6 countries who will design and implement national advocacy campaigns to address drivers of shrinking civic space and 2) to Consortium partners. The consortium members, together with the CS actors organize multi-stakeholder round tables, seminars and dialogues to raise and discuss priorities and concerns of civil society with regards to shrinking space, informed by conducted research and analysis (such as the consultation of CSO's). In addition, HSC engages in policy dialogue with the EU, FATF and/or MENA FATF to raise and discuss these priorities.
Related themes
inclusive leadership
To put human security into practice implies that policymakers and practitioners working on issues of development, on humanitarian aid, human rights, peace building and security directly involve citizens in their work.
Read more