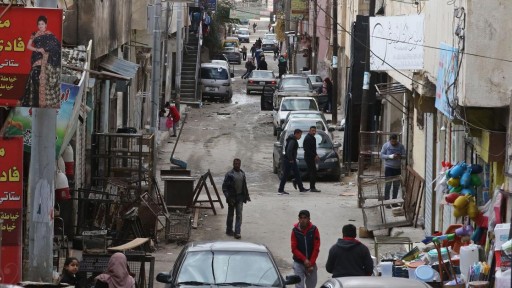 Al-Baqaa is a Palestinian refugee camp located northwest of the Jordanian capital, Amman. It was first set up in 1968 as an emergency camp. Since then, inhabitants of the camp have replaced the shelters by concrete houses. 70% of the 120,000 people living in Al-Baqaa camp today, are young people under the age of 30.
The inhabitants of Al-Baqaa face many challenges. The camp is ranked among the poorest in Jordan with 32% of the refugees reportedly having an income below the national poverty line, according to a 2013 Fafo Foundation report. The camp is also ranked second in terms of unemployment: 17% of the inhabitants of the camp are unemployed. The human security of people living in the camp is further exacerbated by the uncertainties of the refugee status in Jordan (revocation of Jordanian nationality, exclusion from jobs in the public sector, etc), the discrimination and stigmatization of inhabitants of the camp and the decrease of UNRWA funds which will negatively impact the provision of services such as: education, health, relief and social services.
In Al-Baqaa, 10 women and men, civil society actors and community members are active to address human security issues of the community. Currently, they are researching the stigmatization experienced by inhabitants of Al-Baqaa and how this is shaped by the pollution of the camp.
Reflecting on his experience in the project, one of the actors shared the following: "I feel this is the first project that is implemented with us inside the camp and that is really with and from the youth. Everything that is happening, this is the first time I see youth really designing, thinking and coming up with everything. When we were talking with the team about the research, myself and the whole team became very motivated and enthusiastic about the research. This is the first research that will be implemented in the camp and that is talking about issues that are core to the camp. Because people are unaware of the problems we have in the camp. We are in need of these kinds of ideas and the things we are working on."
Text available in Arabic here.