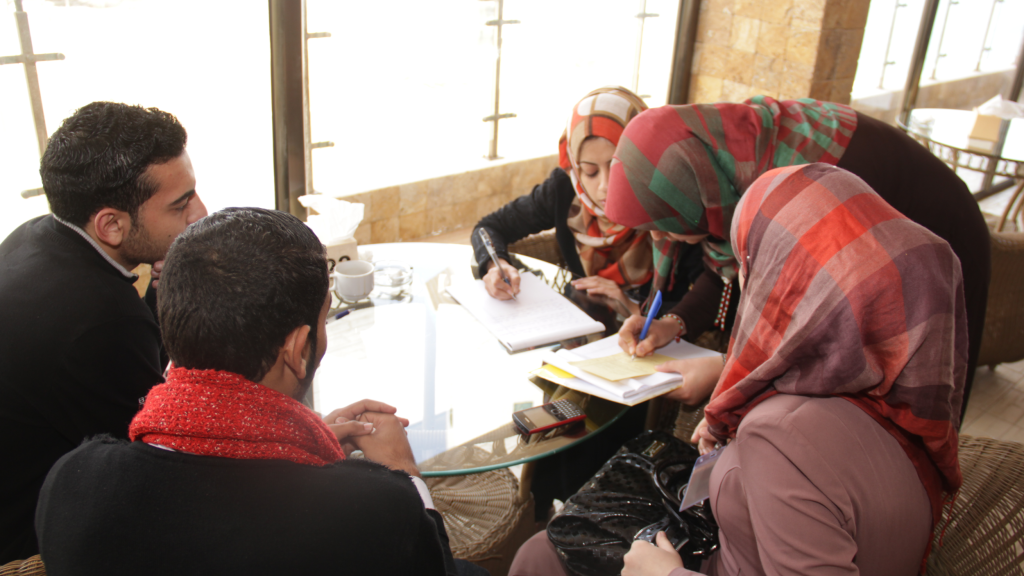 In the MENA region, youth have an important role to play in defining their future political agenda and turning their ideas into practice, creating prospects for development. The development of youth leadership and building capacities of youth networks is paramount to the creation of a secure, just and sustainable world. HSC together with various networks of young people is building these capacities with a view to engaging on and promoting issues of human security.
An important current initiative is the Youth and Women against Violence project, designed to increase youth's agency, influence and engagement in countering violence in communities. This project is being implemented in Palestine and Libya by Human Security Collective (HSC) along with Cordaid between 2013 and 2016. The programme is funded by the Dutch Ministry of Foreign Affairs (NAP 1325).
The Youth and Women against Violence project aims to identify and support innovative projects designed and implemented by youth changemakers in local conflict-affected communities in order to help prevent violence. The project has four central components:
To strengthen the capacity of young changemakers to bolster human security in communities
To monitor the everyday safety in communities through the gathering and analyzing of stories from community members
To provide young changemakers with the requisite skills and methodologies to bridge the gap between communities and local security stakeholders
To strengthen the international network of young changemakers to influence security policy at the macro level
HSC staff work with international as well as in-country partners to deliver a series of training programmes designed to bolster the knowledge, awareness and skills of young changemakers to design and implement innovative projects that tackle complex security issues. Participants in the training are young civil society leaders selected from conflict-affected communities. Special attention is given to exploring the challenges and opportunities inherent in engaging constructively with local (in)formal security stakeholders, and participants will have the opportunity to meet with security stakeholder representatives in a facilitated dialogue.
Training will be enhanced by the development of a toolkit that will help participants apply the training to current and/or new initiatives. HSC, together with local civil society, aims to ensure links between these local efforts and national level policymakers, and also the larger international community working on bridging the gap between civil society and security.
Between 24 and to 27 November 2016, a group of young changemakers from Palestine, Libya and Tunisia came together in Tunis for a programme of regional exchange. The group consisted of 4 Palestinian, 12 Libyan and 8 Tunisian youth leaders, and a team of Palestinian, Libyan, Moroccan, Tunisian and Dutch resource persons. The regional exchange provided a platform for these young changemakers to exchange ideas, experiences and approaches on designing and implementing activities on human security. This workshop was one of the final activities of the three-year 'Women and Youth Against Violence' programme.