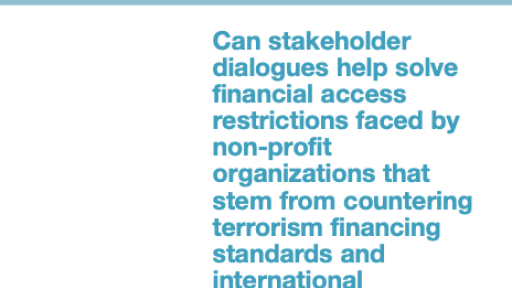 Since the 9/11 attacks, counterterrorism norms and measures have been on the rise. Increasing evidence shows that rules and regulations stemming from these measures have resulted in a number of unintended consequences for the nonprofit sector.
One such is the restriction to financial access that nonprofits around the world face. This article (in the International Review of the Red Cross) by Lia van Broekhoven and Sangeeta Goswami looks at one particular form of engagement mechanism to help solve the financial exclusion challenges of nonprofits – that of the multi-stakeholder dialogue process.
Involving civil society, banks, government, financial intelligence, regulators, supervisors, and banking associations among others, these dialogue processes are considered by policymakers and civil society to be the most appropriate and effective form of engagement for dealing with and overcoming this particular set of challenges.
Multiple examples are provided of ongoing initiatives, with the nuances of each drawn out for a closer look at the conditions needed to sustain such dialogue, and an examination of whether such stakeholder dialogue processes are fit for purpose for solving the seemingly intractable problem at hand.
Read the article here