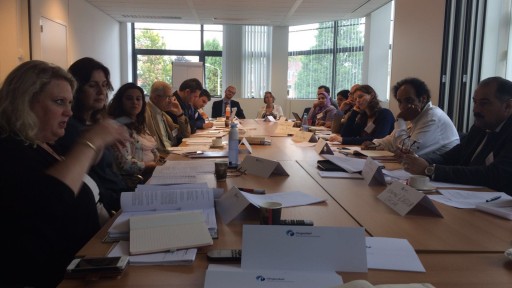 Human Security Collective is part of a consortium that has been granted a three-year project by NWO-WOTRO under a call for 'Comprehensive Approaches to Human Security in Fragile and Conflict Affected Settings: Transnational Dimensions'. The project aims to demonstrate the impact of a human security approach in Palestine, Egypt and Iraq that addresses the root causes of violent extremism as a transnational threat.
The consortium combines the expertise of two research partners (Clingendael Institute, the Netherlands and the Global Political Trends Center, Turkey), one learning exchange and capacity building partner (Human Security Collective, the Netherlands) and 3 practitioner partner organizations (Al-Ahram Center for Political and Strategic Studies, Egypt, The Center for Democracy and Community Development, Jerusalem and the Strategic and Political Research Centre of the Salahadeen University, Iraqi Kurdistan).
The objectives of the project include:
Validating the push/pull factors of radicalization;
Gaining context-specific insights into how Human Security (HS) is defined;
Providing insight into conditions for engagement (communities and security stakeholders);
Producing evidence on how this engagement leads to joint analysis and implementation of an HS-approach in Countering Violent Extremism (CVE);
Producing context-specific evidence on how an HS-approach can prevent Violent Extremism (VE);
Demonstrating impact of the HS-approach to policymakers with actionable pointers;
Providing insight into the context-specific roles of women in CVE;
Developing effective CVE-policies based on an HS-approach that diminish the support base for VE in communities (multidisciplinary and multi-stakeholder).
The overarching research question is: 'Can a Human Security approach effectively address the drivers of violent extremism?'
The three-day kick-off workshop included consortium-members, stakeholders from national/international policymaking, and representatives from academia. The objectives of the workshop included:
Developing a shared analysis of the transnational threat of violent extremism based on a local and community-level understanding of violent extremism and human security in Palestine, Egypt and Iraq, and a broader MENA-region/international perspective
Agreeing on an appropriate methodology for research in communities, capacity building and knowledge sharing.
Working out in detail the plans for the three-year research project with the consortium members and training on CVE/HS.
Raising awareness of this research among the stakeholders and their networks.