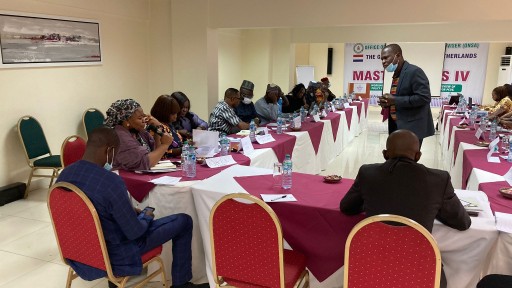 In collaboration with the Government of the Netherlands and the Office of the National Security Adviser (ONSA) in Nigeria, HSC held a
Masterclass
(15-18 February 2022) around the Policy Framework for Preventing and Countering Violent Extremism (PCVE) in Abuja. This is the fourth Masterclass in a series of workshops designed to build the capacities of policymakers and practitioners in Nigeria on the effective implementation of PCVE. Stakeholders came together over four days to review the National Action Plan for PCVE and to analyze and apply policies to combat violent extremism in the country.
The whole-of-government and whole-of-society approach to combating terrorism and violent extremism in Nigeria was further emphasized, with the Counter-Terrorism Centre (CTC) coordinator for ONSA stating that 'the development and implementation of a Policy Framework prioritize the strengthening of institutions and coordination; access to justice, rule of law, and human rights approaches; engaging communities and building resilience; and integrating strategic communications in PCVE Programmes.'
This Masterclass followed on from ones held earlier in Kaduna in 2017, Maiduguri in 2018 and Abuja in 2021.