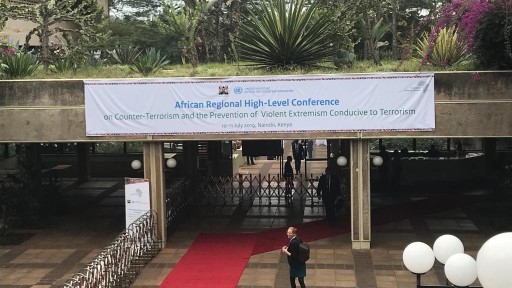 HSC Intervention at UN African Regional High Level Conf on CT PVEHSC attended the UN African Regional High-level Conference on CT & PVE in Nairobi, Kenya, on July 10-11 2019, organizing a side-event entitled 'Mentorship Approaches to Build Resilience to Violent Extremism: Good Practices and Challenges from Practical Experiences in the African Context'.
During this side-event, experiences of working with mentors in marginalized communities in Tunisia and Kenya were shared, along with lessons learned and good practices, with the aim of building resilience to violent extremism.
Following up on programmatic work in the last few years, HSC, together with its Tunisian partner the Arab Institute for Human Rights, has developed a handbook on its approach of working with youth leaders (18–26 years old) and mentoring teenagers in their neighbourhoods. During the side event, insights on this practical approach were shared, an approach that ensures that youth living in marginalized communities are willing to engage in PVE on their terms and in their time. The four main components of this approach, namely Envisioning, Empowering, Engagement and Exchange were discussed.
Broadening the experiences on mentorship, Robert Ochola shared his insights based on many years of experience working as a community developer and youth mentor on peer-to-peer C/PVE and violent crime initiatives in Nairobi neighbourhoods.
It was a fruitful exchange, with participants from Nigeria, Kenya and Morocco among others discussing issues including partnerships between youth, civil society, states and intergovernmental agencies on practical approaches in Africa engaging youth in marginalized communities in PVE work.

For the HSC intervention during the plenary, click here.