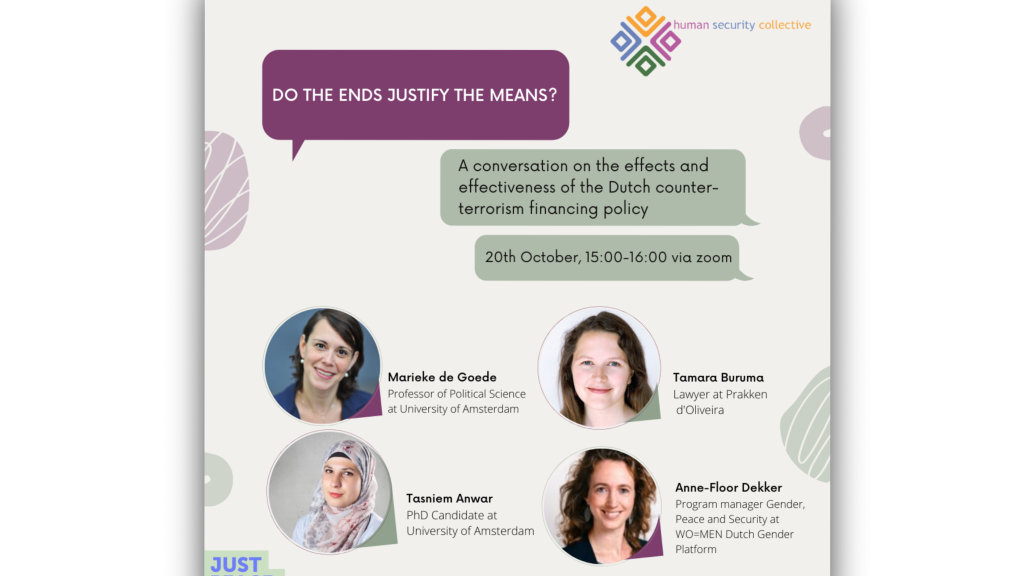 Date/Datum: 20-10-2021
Time/Tijd: 15:00-16:00
Location/Locatie: Online
Register here to attend the event
DO THE ENDS JUSTIFY THE MEANS?:
A conversation on the effects and effectiveness of the Dutch policy to counter terrorism financing
Wednesday 20th October 2021, 15:00-16:00
As a part of Just Peace week, Human Security Collective is hosting a conversation to discuss the consequences and impact of the Dutch counter terrorism financing (CFT) policy. Since 9/11, countries around the globe have adopted expanding measures to counter terrorism financing. Increasing evidence shows that many of these policies have had negative unintended consequences for access to banking for people and organizations, including nonprofits working on issues of human rights, peace and justice. In the Netherlands, they have also led to the legal prosecution under counter terrorism financing laws against people who have sent money to their family members in Syria or Iraq. On this occasion, we will engage in a conversation with academics and NPOs to discuss the human impact of CFT measures in the Netherlands. Some of the questions that will be addressed include: How effective are CFT measures in the Netherlands? What are the effects of these measures on people in the Netherlands and abroad? What do CFT measures mean to organizations that work towards Just Peace?
Other speakers include:
Marieke de Goede: Professor of Political Science at the University of Amsterdam
Tamara Buruma: Lawyer at Prakken d'Oliveira
Tasniem Anwar: Researcher
Anne-Floor Dekker: Program Manager Gender, Peace and Security at WO=MEN Dutch Gender Platform
Please find the bios of the speakers here.
HEILIGT HET DOEL DE MIDDELEN?:
een gesprek over de effecten en effectiviteit van het Nederlandse antiterrorisme financieringsbeleid
Als onderdeel van de Just Peace-week organiseert Human Security Collective een gesprek over de gevolgen en impact van het Nederlandse beleid ter bestrijding van terrorismefinanciering (CFT). Sinds 9/11 hebben landen over de hele wereld uitgebreide maatregelen genomen om de financiering van terrorisme tegen te gaan. Er is steeds meer bewijs dat deze maatregelen hebben geleid tot negatieve en onbedoelde gevolgen zoals moeilijkheden bij bankieren voor personen en maatschappelijke organisaties die zich bezighouden met het verlenen van humanitaire hulp, mensenrechten en vrede. In Nederland hebben de maatregelen ook geleid tot gerechtelijke vervolging tegen mensen die geld hebben gestuurd naar hun familieleden in Syrië of Irak. Bij deze gelegenheid gaan we in gesprek met wetenschappers, advocaten en maatschappelijke organisaties over de impact van antiterrorisme maatregelen in Nederland. Enkele van de vragen die aan de orde komen zijn: Hoe effectief zijn deze maatregelen in Nederland? Wat zijn de effecten van deze maatregelen op mensen die zich inzetten voor hulp, mensenrechten en vrede in binnen- en buitenland? En wat betekenen ze voor organisaties die werken aan Just Peace?
Naast HSC zullen aan het gesprek deelnemen:
Marieke de Goede: hoogleraar Politicologie aan de Universiteit van Amsterdam
Tamara Buruma: Advocaat bij Prakken d'Oliveira
Tasniem Anwar: Onderzoeker
Anne-Floor Dekker: Programmamanager Gender, Peace and Security bij WO=MEN Dutch Gender Platform