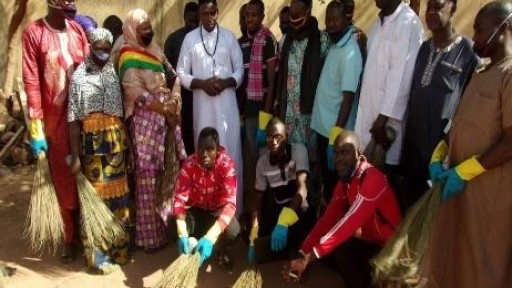 A context marked by mistrust between religions
The emergence of radical religious currents in the Malian crisis of 2012 constitutes a major risk for peaceful coexistence, accentuating mistrust between the various religious strands in Mali. In order to promote peace and the coexistence of religions in Mali, HSC through the implementation of the ARC programme, is supporting religious leaders in initiating certain activities, including a debate conference, a sanitation activity in health centres, and last but least, football matches.
A series of activities to strengthen peaceful coexistence between religions
The religious leaders' monitoring committee organized a debate conference on the theme "Interfaith cohesion, an opportunity to seize". This interfaith conference-debate was facilitated by three eminent speakers who are vectors of "religions coexistence in Mali" through their social position and their role within their respective religious community. The interfaith conference-debate focused on the characters that build peace: forgiveness, living together and especially respect for others in their differences.
The sanitation activity of the 6 reference health centers in the district of Bamako by young people from three religious' denominations (Muslims, Catholics and Protestants) and health workers from the various centers. The purpose of this activity was to promote the coexistence of religions among health workers, patients and the entire population of the district of Bamako.
Football matches in all 6 communes of the district of Bamako between young people of the three denominations. Mixed teams composed of Muslims, Catholics and Protestants were formed in the spirit of promoting social cohesion and living together.