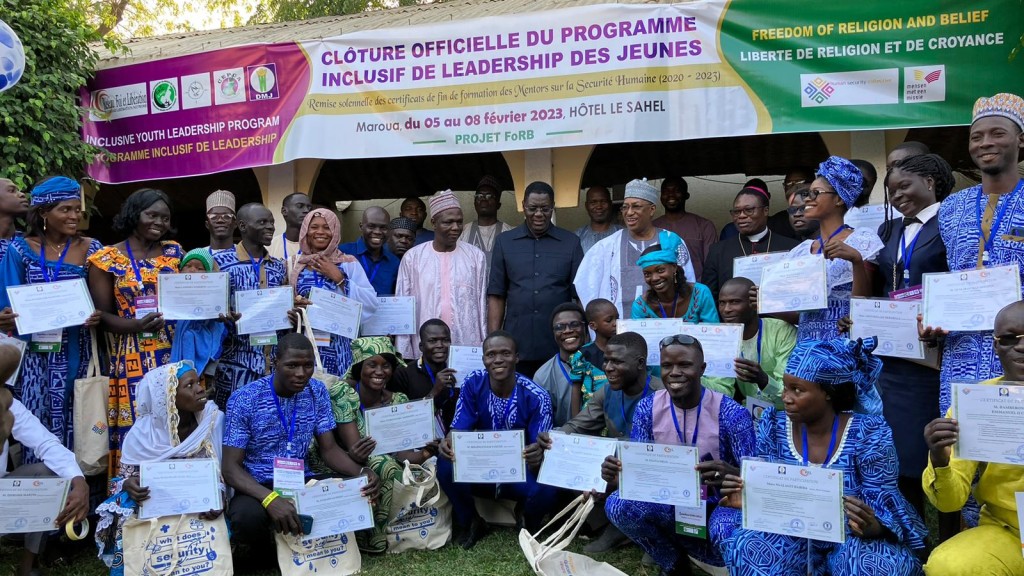 30 young leaders from small towns and villages in Far North Cameroon impacted by Boko Haram were honored for their efforts to serve their communities through the Inclusive Leadership Programme organized by Dynamique Mondiale des Jeunes (DMJ) and Human Security Collective (HSC) within the Freedom of Religion and Belief (FoRB) project.
Besides acquiring critical skills in human security, conflict analysis, and inclusive leadership, each participant developed their own initiatives to increase cohesion and resilience in their local areas. Some examples include: Tchari Adam re-mapped cattle herding routes in order to significantly reduce conflict between herders and farmers; Catherine Lamisse in the village of Meme led a project to reduce conflict between IDPs (Internally Displaced Peoples) and host populations at wells; Siliwa Sikoa in the village of Tourou designed a project to support the under-resourced community defence patrols in continuing their fight against Boko Haram; Emmanuel Temwa in Blangoua used his leadership skills to coordinate the response to catastrophic flooding.
Their achievements were recognized by political and religious leaders. The Governor of the Far North Region Midjiyawa Bakari attended in person to hand out the certificates, along with the Bishop of Maroua and other dignitaries. In his speech, Governor Bakari reminded the awardees:
"Today's ceremony is an opportunity to celebrate the achievements of the young leaders before us. But it is also a time to reflect on their role and place in society, and how we can learn from their example to create a more inclusive, participatory, peaceful and just world in which the relationships of today safeguard humanity from possible violence in the future."