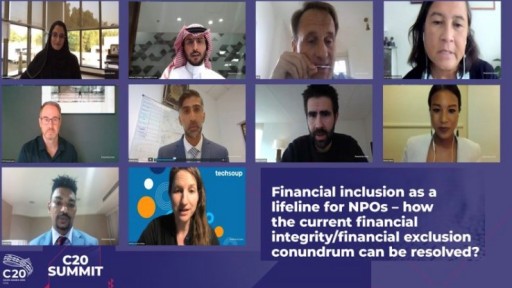 Human Security Collective and Islamic Relief Worldwide jointly organized a multi-stakeholder panel titled 'Financial inclusion as a lifeline for NPOs – how the current financial integrity/financial exclusion conundrum can be resolved' during the Civil Society 20 (C20) Summit in Saudi Arabia. See here for background paper and the full list of panellists.
Panellists from the Global Partnership for Financial Inclusion (GPFI), the Financial Action Task Force and the World Bank expressed their commitment to continue engaging with civil society on the issue of financial access. The Alliance for Financial Inclusion (AFI), an MDC and LDC membership organization of regulators and supervisors of the financial sector, also expressed their commitment for closer collaboration with civil society, including the Global NPO Coalition, to raise awareness among and build the capacities of their membership around the issue of financial inclusion of NPOs, in line with the revised FATF Recommendation 8 and the risk-based approach that the FATF Standards call for.
ABN AMRO bank in The Netherlands spoke of an additional avenue for addressing 'de-risking' and finding solutions for civil society through the bank's commitments on human rights and business. These commitments cannot hold when compliance and financial crime departments of banks de-risk NPOs that are essential to performing the watchdog function in terms of the bank's compliance with the UN Guiding Principles on Business and Human Rights, including NPOs that are at the frontlines of human- and environmental-rights activism. The bank representative on the panel said that what are currently only guiding principles on business and human rights will, it is expected in the coming years, become hard law under EU legislation, and mandatory for all banks in Europe.
Islamic Relief Worldwide, UK, and their partner in Sudan, the United Peace Organization, presented a compelling picture of the down-streaming of risks: of having to comply with tighter terrorism financing and sanctions risk-management requirements by banks, including extended due diligence from the sending, correspondent and receiving banks (for Islamic Relief Worldwide, this was required in up to 80 per cent of all their cash transfers). This creates huge delays in the execution of programmes (resulting in fatalities, at times), is enormously costly, and negatively influences the reputation of the organization.
TechSoup presented their NGO Source tool, which is in the process of becoming available for civil society across the world, and can be a technological self-regulatory integrity and accountability tool (financial as well as governance) for both smaller and larger NPOs; and something which will give sufficient comfort to regulatory bodies, donor governments and possibly financial institutions who have to comply with international terrorism financing rules and regulations.
For a full recording of the event, please click here.