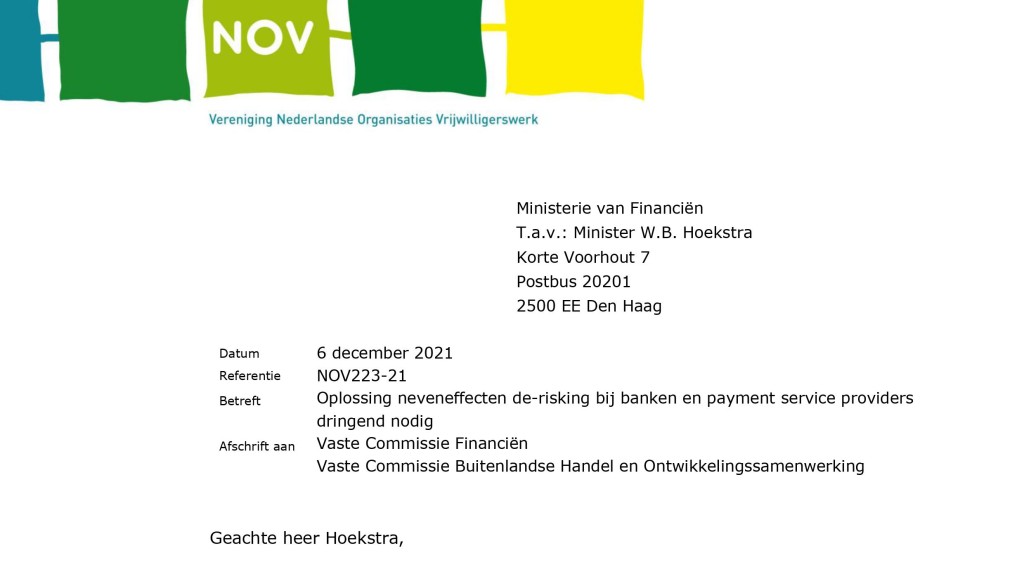 In een brief aan minister Hoekstra van Financiën luidt een groot aantal maatschappelijke koepels de noodklok. Steeds meer maatschappelijke organisaties kunnen geen bankrekening meer krijgen of zien dat het contract met een payment service provider (psp-er) wordt opgezegd. Oorzaak is de de-risking van deze partijen: banken en psp-ers sluiten bepaalde klanten uit of weigeren bepaalde diensten om risico's op witwassen en terrorismefinanciering te minimaliseren.
Human Security Collective heeft de brief mede ondertekend.
In de brief roepen de koepels de minister op om zo snel mogelijk een overleg te organiseren tussen betrokken partijen om tot een oplossing te komen. Want dit raakt Nederland en Nederlanders in het hart van goed doen. Alle maatschappelijke organisaties hebben immers recht op een bankrekening en toegang tot het betalingsverkeer.
Lees hier de volledige brief.