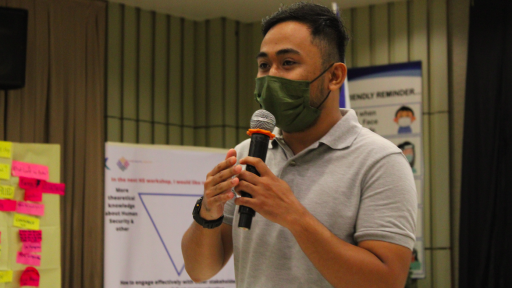 What is life in Mindanao like for young people? What are some of the salient human security issues as you see them?
Mindanao has known a long history of conflicts. The conflicts reflect people's continuing struggle for the fulfilment of the right to self-determination. The struggles also reflect the consistent demand for meaningful governance and representation in national politics. Ongoing conflicts in Mindanao have led to displacements of people, high rates of poverty and youth unemployment. Despite these challenges, young people in Mindanao want to be part of the solution. However, they are at the margin and excluded from decision-making processes, and they tend to be characterized as either passive victims of conflict or perpetrators of conflict or "mere" beneficiaries of development aid. These characterizations are a barrier to young people's potential as effective agents of change in conflict and post-conflict settings. As a result, some young people have become frustrated that they are left at the margins- tend to join violent extremist groups. And this is of great concern.
Is leadership important to instil amongst youth? Why do you think so?
Absolutely. Especially in a state of distrust and polarization, I think it is important to inculcate inclusive and transformative leadership amongst young people. Historically speaking, there has been a significant contribution from young people in Mindanao and in the Philippines in general to the building of democracy and peace. For instance, think about who started the movement of liberation against Spaniards. It's young people! Under Marcos' regime, you have students and youth who are part of the unrest movement to tackle the dictatorship. So indeed, it is important and there is a need to capacitate young people with leadership skills, not only a mere leadership but it should develop a sense of critical thinking, collective and intersectional outlook.
What would you like to see happen for the future of young people from Mindanao?
I would like to see young people at the center stage of all the decision-making processes. For this to happen, the government and civil society organizations should invest more in young people's aspirations, provide greater spaces for them to speak out and be part of the decision-making process.
Does the FoRB programme equip them [the young people from Mindanao]? How so?
The FoRB programme creates a safe space to learn about different cultures and religions. The conflicts in Mindanao are deeply rooted in biases and prejudices, the FoRB programme becomes essential to improve intergroup relationships. Furthermore, the programme allows communities to build up trust and peace among different ethnic backgrounds and beliefs. It also helps promote young people's significant role in building peace. Thus, offering an alternative to violence extremism.
In our series of Inclusive Youth leadership workshops, diverse youth leaders from different communities in Mindanao developed a vision of their significant role to promote religious tolerance and coexistence in the transitional communities through engagement with various stakeholders. How to locally and collectively understand and apply the principles of freedom of religion, offers an alternative and inclusive resolution to eradicate discrimination and prevent violent extremism based on social justice and human rights. The youth also improved their understanding of the Mindanao History and predicaments of each people and took part in bridging the gaps between and among peoples.
The youth leaders in three communities organized interfaith dialogues to start creating safe spaces among tri-people to embrace, learn and respect their differences and find common aspirations to build trust and peace in their communities and also to eradicate the deep-seated discriminations. This common aspiration was reflected in their first organized initiative which was the "Solidarity Ramadhan" which aims to promote interfaith understanding where their Christian and Lumad youth prepare simple food for their Muslim brothers and sisters during Iftar. There was also sharing of positive stories and experiences in social media about the peace efforts.
Could you mention some examples of the initiatives from the workshop?
We have community visits. During these visits, we are hosted by a different community for a day to learn more about their background, listen to their stories and experiences.
Youth leaders have the chance to develop and design their own human security initiatives as a result of their series of capacity workshops that will be implemented in their respective communities this year. Some of these initiatives include climate justice campaigns, voter education campaigns, using arts in peacebuilding and as opportunity to engage with young people on topics of prevention of violent extremism, setting up mental hubs for Indigenous people, and many more. I am really proud that I was able to witness their commitment and aspirations through their initiatives. They were well-thought, youth-led and context-based initiatives that will help their co-young people and their communities.
What has working remotely been like? What are some of the challenges and how have you overcome them?
It has been really hard. Before COVID-19 I was able to go to the communities and implement activities easily. However, this is not the case under the state of pandemic. We struggle with different kinds of issues such as lack of internet connection in some communities and uncertain COVID guidelines and policies that affect our [civil society] mobility. In light of these challenges, we had to adapt an in-person programme to hybrid sessions. Luckily, participants are understanding and still show motivation
About Reemar
Reemar Alonsagay is a migrant-Christian born and raised in the Bangsamoro area with extensive experience in advocacy work for peace, climate justice and human rights in Mindanao, Philippines. He is a project officer at The Alyansa ng Kabataang Mindanao para sa Kapayapaan (AKMK), an organization that focuses on empowering tri-people (Indigenous People, Bangsamoro, and Migrant Christians) youth to become active actors in peacebuilding processes in Mindanao. Moreover, AKMK acts as local coordinator of Human Security Collective Inclusive Leadership trajectory under the Freedom of Religion and Belief (FoRB) programme. The FoRB programme aims to facilitate dialogue between and within religious groups and contribute to peaceful coexistence. HSC works with local partner AKMK to strengthen social cohesion and empower young people in Mindanao to become agents of change in their communities.